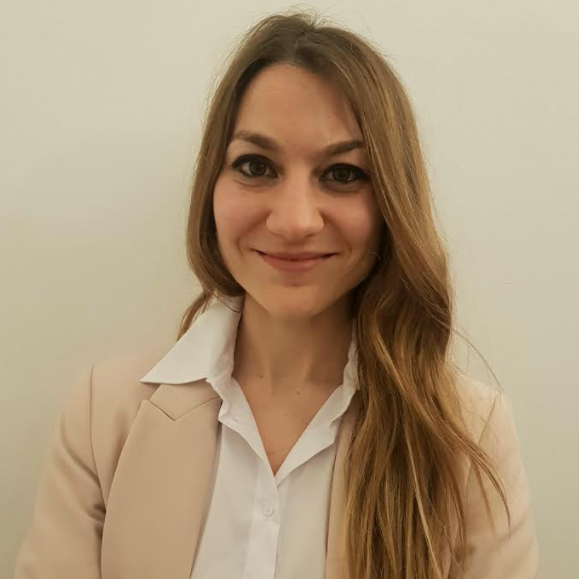 Contact Information
Department of Biengineering
Universidad Carlos III de Madrid
Avda. de la Universidad 30
28911, Leganés, Spain
Bio
Alba Gonzalez Alvarez is a senior researcher in Biomedical Engineering with over 9 years of industrial, academic and clinical experience in the development of implantable medical devices. She has collaborated with surgeons, companies and engineers worldwide to develop hundreds of customised implants and surgical instrumentation that have been successfully used in patients to reconstruct complex bone defects in several clinical specialities such as orthopaedic, maxillofacial and thoracic surgery.
She is currently leading a Marie Curie Conex-PLUS Postdoctoral research project at University Carlos III of Madrid on custom implant development with 3D printing technology in collaboration with several Spanish and international hospitals. Previously, she worked at Stanmore Stryker (London, UK), designing personalised orthopaedic implants; and for the NHS as a 3D biomedical engineer at Morriston Hospital (Swansea, UK) developing patient-specific solutions for maxillofacial, thoracic and plastic surgery. Before this, she completed an Industrial Marie Curie PhD funded by the European Commission on the development of spinal implants at S14 Implants in Bordeaux, France, and the University of Birmingham, UK.
Alba has recently been awarded with the National Design Award 2022 from the Ministry of Science and Innovation of the Goverment of Spain (in the category of young designers) for her pioneering career dedicated to innovation and design for healthcare and patients.
Dr Alba Gonzalez Alvarez has also been shortlisted as 1 of 5 most innovative and influential women worldwide in the industry of 3D printing, being a finalist for the TCT Women in 3D Printing Global Innovator Award 2023 from over 70 women nominated worldwide.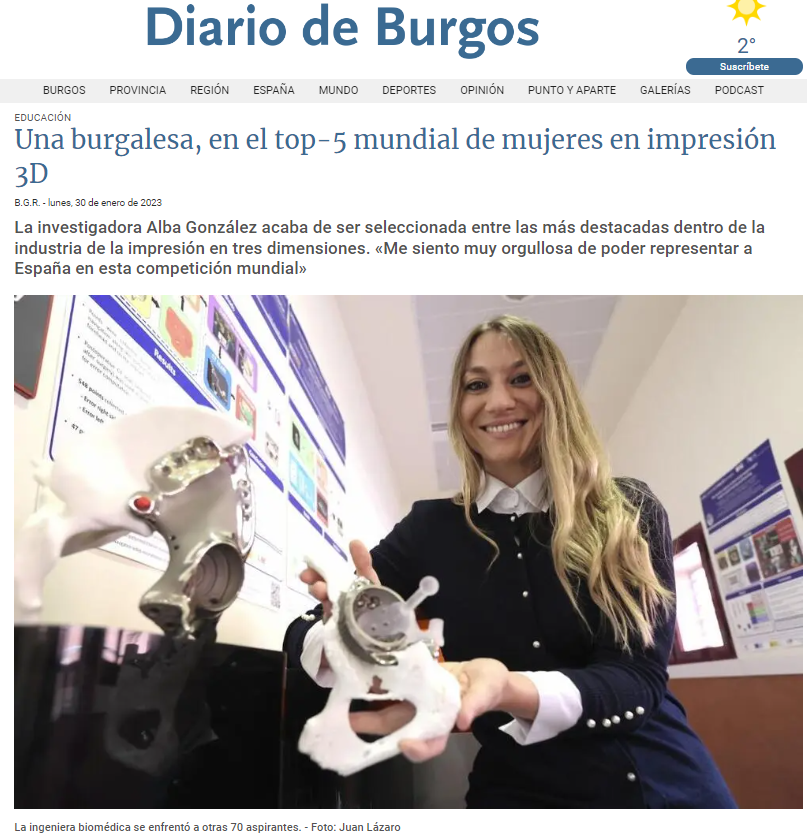 She been an invited speaker in several national and international conferences and has presented her work in very prestigious events including the Houses of Parliament in Westminster Palace, London, or the World Congress of Biomechanics.
Alba is passionate about creating innovative solutions for different clinical needs. Her motivation is to improve patients' lives by using engineering and technology.
As an example, the following case is a 68 year-old male patient presenting extreme bone loss in the pelvis after total hip replacement. This patient required a revision surgery and, due to the large and complex bone defect, the surgical team asked for a personalised reconstructing implant. Alba and her team of engineers developed a custom-made 3D printed porous implant and some personalised surgical instrumentation for the patient in collaboration with the surgeons from the CTO Hospital in Turin, Italy. The implant was inserted in the patient without complications and the post operative x-ray are presented in the next image: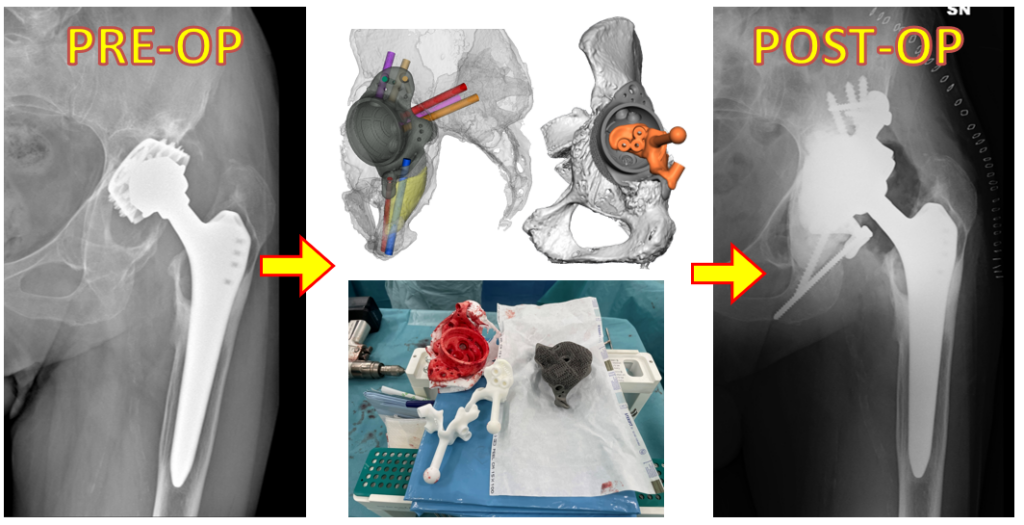 The patient has recovered his mobility and his quality of life. The following video shows the rehabilitation of the patient two days after surgery:
ALBA IN THE NEWS:
Links