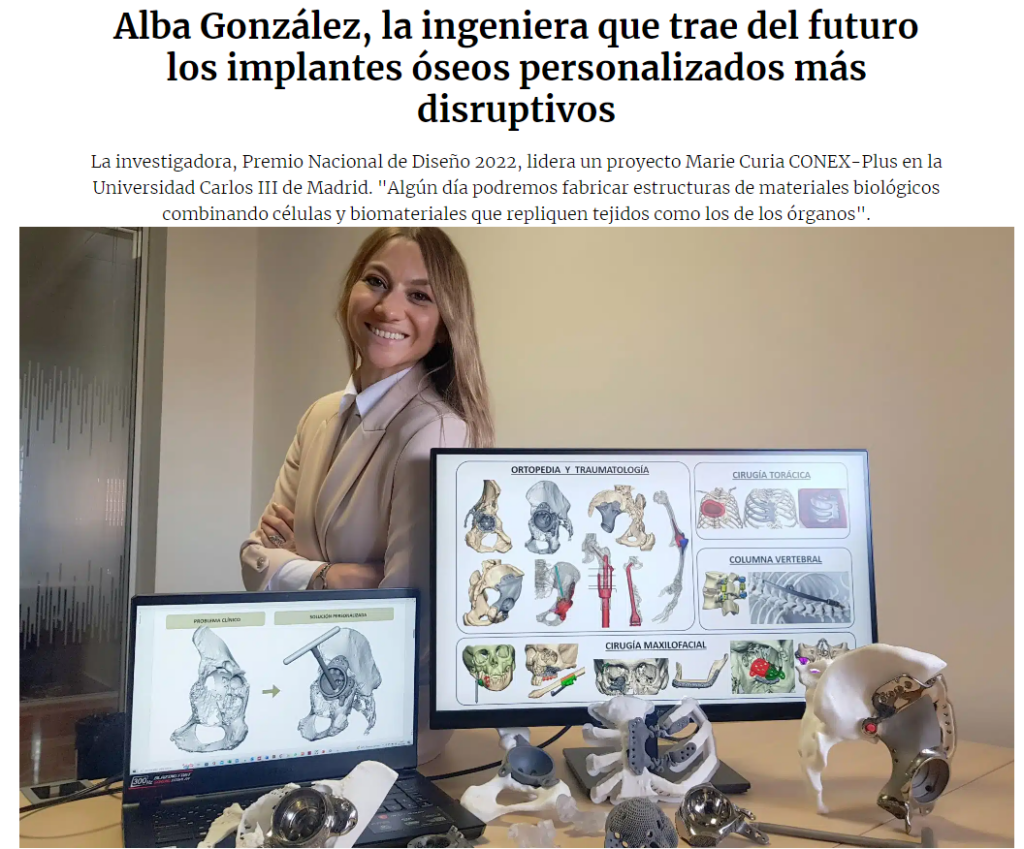 Introduction
The Custom Medical Devices (Cust-Medd) Project is a Marie Skłodowska–Curie Conex Plus Postdoctoral Research project at University Carlos III of Madrid led by Dr Alba González Álvarez, its Principal Investigator. The project is dedicated to develop innovative customised implants with the use of 3D printing technologies for patients that require reconstructive surgery for complex bone defects. We are able to offer a turnkey service to hospitals that enables early stage ideas for patient specific medical devices to be taken through design development into biomechanical analysis, then 3D printing production, certification and safe clinical use. The devices we develop are tailored in shape, aesthetics, mechanical and biological properties for each patient, playing a vital role in the management of complex conditions by being fabricated on-demand close to the point of need, improving the accuracy, safety and quality of patient treatment. This project is carried out in collaboration with several hospitals in Spain and Europe and it is possible through multidisciplinary work with other engineers, medical specialists, companies and researchers. Our lead researcher Dr. Alba Gonzalez Álvarez has over 8 years of experience developing medical devices in hospitals and industry and has created hundreds of implantable devices that have been successfully used in patients worldwide to reconstruct very complex bone defects in almost any anatomical site of the body.
During the Cust-Medd Porject, several custom implants and personalised surgical instrumentation have been successfully developed in several clinical specialities such as maxillofacial, orthopaedic and thoracic surgery. Moreover, the IGT group has also pioneered the effective application of virtual surgical planning, advanced 3D design, additive manufacturing and custom implants in combination with surgical navigation technologies, artificial intelligence and augmented reality in reconstructive surgery.
The project aims to provide services to hospitals and surgeons to develop custom implants and custom surgical instrumentation for specific clinical cases. Furthermore, several research activities are carried out to continuously improve the quality of the devices developed, validating the biomechanical aspects and the fabrication aspects that guarantees safety to the patients.
Clinical Cases developed for Hospitals
Patient with a complex periacetabular defect presenting extreme bone loss after THA required a revision surgery. We developed a custom-made 3D printed implant and some personalised surgical instrumentation for him.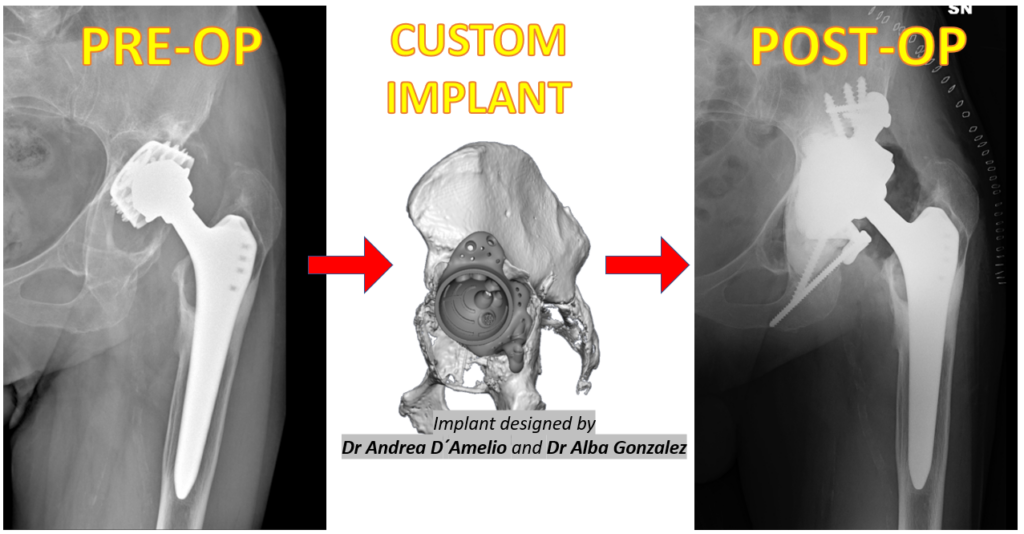 Patient started rehabilitation the day after surgery without complications or luxation, see the following video: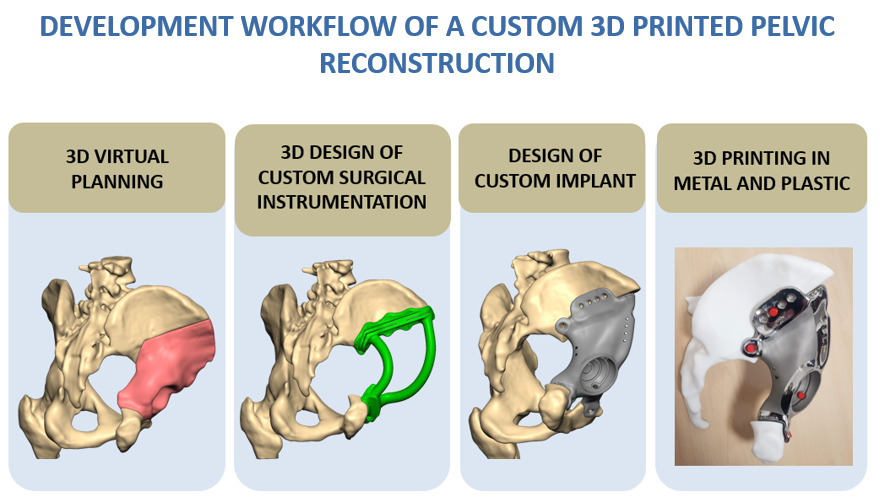 Please, contact us if you would like further information about the custom implants developed for specific clinical cases.
Research Activities
One of the main studies that have been performed to guarantee the quality of manufacturing of our implants is summarised in the following poster and will be published soon as a scientific paper.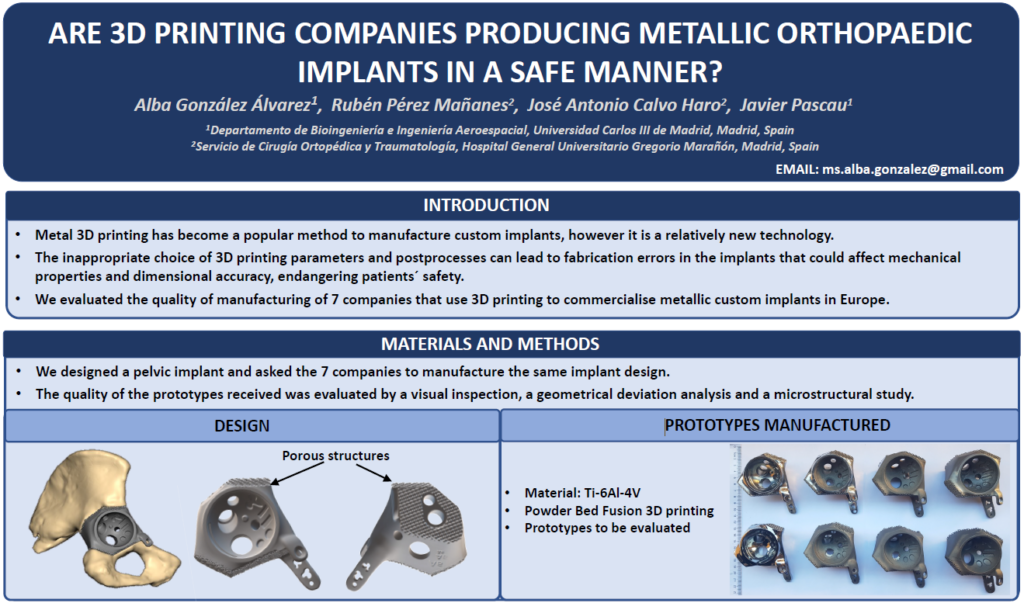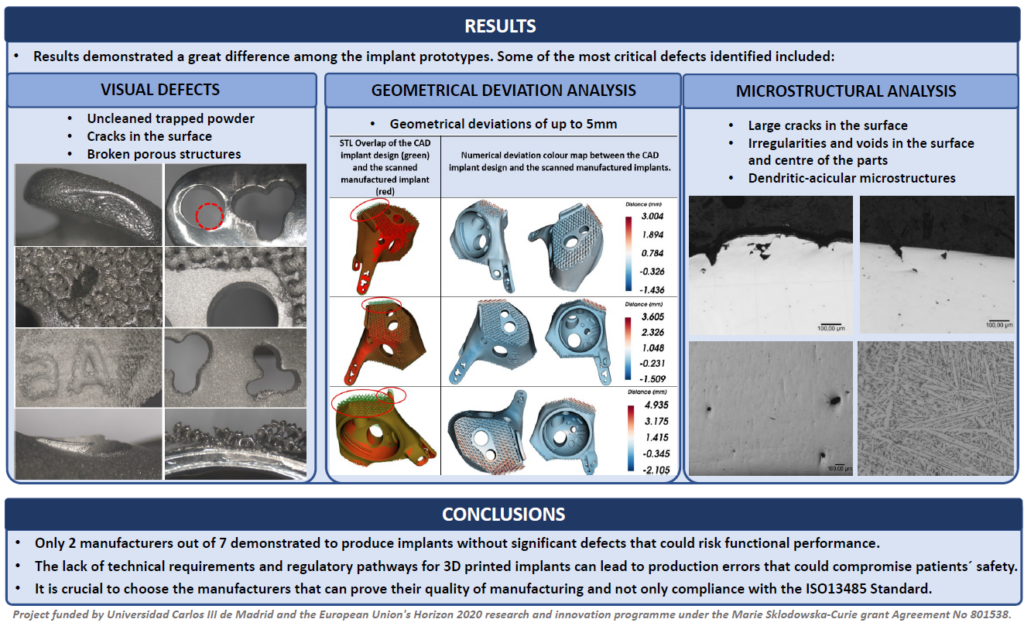 https://www.linkedin.com/posts/alba-gonzalez-alvarez-phd-ceng-meng-beng-972060115_challenges-of-metal-3d-printing-for-orthopaedic-activity-6942403025621663744-ngwH?utm_source=share&utm_medium=member_desktop
Dissemination Activities
Alba Gonzalez is awarded the National Design and Innovation Award 2022 from the Goverment of Spain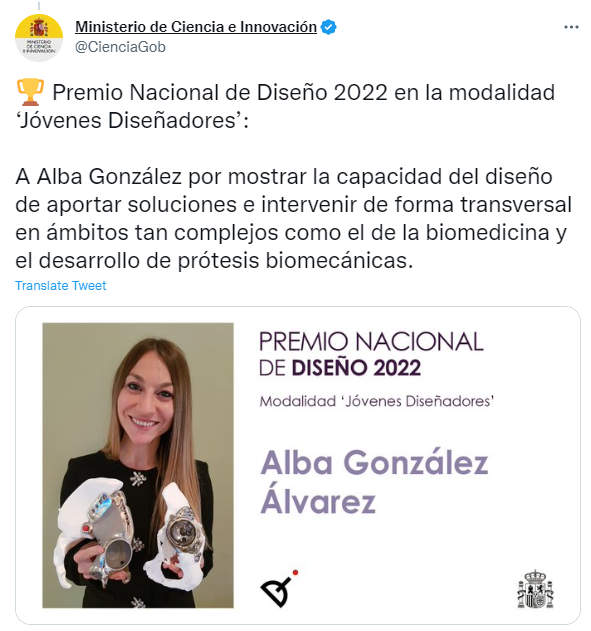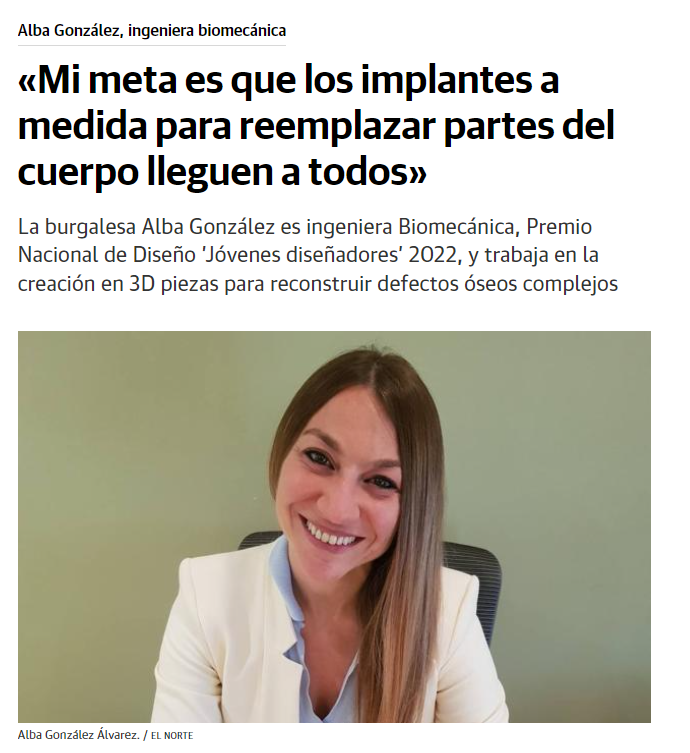 Invited talks at the following conferences and workshops:

Design, Manufacture and Clinical Application of Patient Specific Medical Devices and Validation Strategies for Additive Manufacturing. TCT 3Sixty event in Birmingham, United Kingdom. 28th-30th September 2021:
Development of Patient Specific Implants using 3D Printing Technologies. Workshop organised by the Institution of Mechanical Engineers. 24th February 2022. Online. https://nearyou.imeche.org/eventdetail
The collaboration between engineers and surgeons in the development of patient specific hip implants. Spanish Congress of Hip Surgery (SECCA: Sociedad Española de Cirugía de Cadera).16-17th June 2022, Almeria, Spain
Digitalization and Personalization in Healthcare. Webinar organised by the Scientific Park of UC3M. 20TH May 2021. Online. https://www.youtube.com/watch?v=0HKXfgfpoQY
A change in the paradigm of custom implant development. 7th Edition of the course about 3D printing in Orthopaedic Surgery. Course organised by MBA surgical empowerment. 18th February 2022.Madrid, Spain.
Females in Science and Technology. Organised by APTE, 21ST April 2022. : https://www.youtube.com/watch?v=RTWnfknHoj0
Poster Presentations:

"Are 3D printing companies manufacturing orthopaedic implants in a safe manner?". BSTT course (Bone and Soft Tissue Turmors). 8-11th June 2022. Hospital de la Paz, Madrid, Spain.
Scientific Publications:

Villapún, V. M., Carter, L. N., Avery, S., González-Álvarez, A., Andrews, J. W., & Cox, S. (2022). Stakeholder Perspectives on the Current and Future of Additive Manufacturing in Healthcare. International Journal of Bioprinting, 8(3).
Ochandiano, S., García-Mato, D., Gonzalez-Alvarez, A., Moreta-Martinez, R., Tousidonis, M., Navarro-Cuellar, C., … & Pascau, J. (2021). Computer-Assisted Dental Implant Placement Following Free Flap Reconstruction: Virtual Planning, CAD/CAM Templates, Dynamic Navigation and Augmented Reality. Frontiers in Oncology, 11.

Gonzalez Alvarez, A., Evans P., Dolvgalski L., Goldsmith, I. (2021) Design, additive manufacture and clinical application of a patient-specific titanium implant to reconstruct a large chest wall defect. Rapid Prototyping Journal, 27 (2), 304-310.
Gonzalez Alvarez, A., Dovgalski, L., Evans, P. L., & Key, S. (2020). Development and surgical application of a custom implant that enables a vertical vector of mandibular distraction. Proceedings of the Institution of Mechanical Engineers, Part H: Journal of Engineering in Medicine, 234(10), 1172-1180.
Gonzalez Alvarez, A., Dovgalski, L., Evans, P. L., & Ananth, S. (2020): Custom three-dimensional printed orbital plate composed of two joined parts with variable thickness for a large orbital floor reconstruction after post-traumatic zygomatic fixation. British Journal of Oral and Maxillofacial Surgery. 58(10):e341-e342
Curtis, J. M., Foster, E. C., Ananth, S., Eckhardt, C. E., Knox, J., Gonzalez Alvarez, A., & Newton, R. (2020). Autotransplantation of a surgically removed canine using a customised 3D-printed surgical template. Journal of Orthodontics, 47(1), 82-90.
Gonzalez Alvarez, A., Dearn, K. D., & Shepherd, D. E. (2019). Design and material evaluation for a novel lumbar disc replacement implanted via unilateral transforaminal approach. Journal of the Mechanical Behavior of Biomedical Materials, 91, 383-390.
Gonzalez Alvarez, A., Dearn, K. D., Lawless, B. M., Lavecchia, C. E., Vommaro, F., Martikos, K., … & Shepherd, D. E. (2018). Design and mechanical evaluation of a novel dynamic growing rod to improve the surgical treatment of Early Onset Scoliosis. Materials & Design, 155, 334-345.
Esfandiari, H., Martinez, J., Gonzalez Alvarez, A., Street, J., Anglin, C., & Hodgson, A. J. (2017). An automated, robust and closed form mini-RSA system for intraoperative C-arm calibration. International Journal Computer Assisted Radiology and Surgery, 12, S37-S38.
---
Research supported by projects PI18/01625 and AC20/00102 (Ministerio de Ciencia, Innovación y Universidades, Instituto de Salud Carlos III, Asociación Española Contra el Cáncer and European Regional Development Fund "Una manera de hacer Europa"), IND2018/TIC-9753 (Comunidad de Madrid) and project PrePlanRT (ERA Permed).